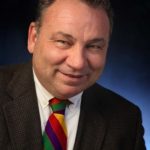 Joseph M. Zanetta, J.D.
Board Vice President

Currently, Joseph is on the Board of Directors of the Robert H. Jackson Center and a member of the Board of Regents at LaSalle High School. He is also a member of the Board of Directors of the Log Cabin Republicans. Mr. Zanetta has served as Chair of the Board of Holy Family Services Adoption Agency, Chair of the Pasadena Enterprise Center
He recently retired as Chief Executive Officer of Citrus Valley Health Foundation; a non-profit, integrated community health care system based in the San Gabriel Valley serving one million residents.  During his four-year tenure, the Foundation secured funding for a new outpatient surgical center, an expanded emergency room, an educational center, the Family Birth & Newborn Center and increased its endowment.