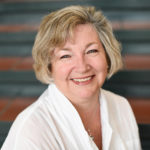 Marianne Wright
Board President

I grew up in San Francisco with a wonderful family that had two adopted children (I was one of them) and one natural child.  I'm grateful for life giving decision that my birth mother made for me, and the wonderful life that my adopted family gave me. I have had a blessed life.
I attended UCLA and majored in Geography.  There I met my husband to be, now married for 32 years.  I worked in the Urban Planning field for 15 years before "retiring" to be an at home parent.
My life for the past 20 years has been a rich one, raising my daughter, and being able to spend my time in the non-profit realm.  I have worked with the UCLA Friends of Geography; Saint Mark's Church and School, Altadena; The Chandler School; and La Salle High School.
My time with HFS has been a fulfilling one.  I was a member on the Board of Directors from 2011 to 2017, with 3 of those years as Chair.  I have worked primarily with The Adoption Guild of South Orange County as their liaison, and with the fundraising aspects of the agency.  I will be rejoining the Board in July of 2018.